Offline for B2B. How we arranged ad placement on one of the largest media facades in Moscow as fast as possible

Client
Our client, the Government of Saudi Arabia, came with a task clearly set: they needed ad placement on one of the largest media facades in Moscow on Arbat 2 building within the period from October 15 until October 31, 2019.
Goal
To increase reach and awareness of the target audience with regards to an upcoming event—a business conference in Riyadh. As is known, there are many companies and business centers concentrated on the Arbat, which lets cover directors and businesspeople.
Solution
A partner advertising agency, representing the Government of Saudi Arabia, addressed our agency in late September with a request to place an ad on a media facade on Arbat 2 building in Moscow.
The banner provided by the client was fully in English without a Russian translation, which contradicts with the Russian law 'On Advertising'. A translation into Russian in small print must have been added at the bottom of the layout. Realizing the specifics of Russian consumers and the fact that, even though many know English, the perception of ads in a foreign language could dramatically affect the result of the advertising campaign, we managed to persuade the client that the banner must only be in Russian. Our agency members helped the partner advertising agency translate the text of the layout, and the ad started, being fully adapted for Russian consumers.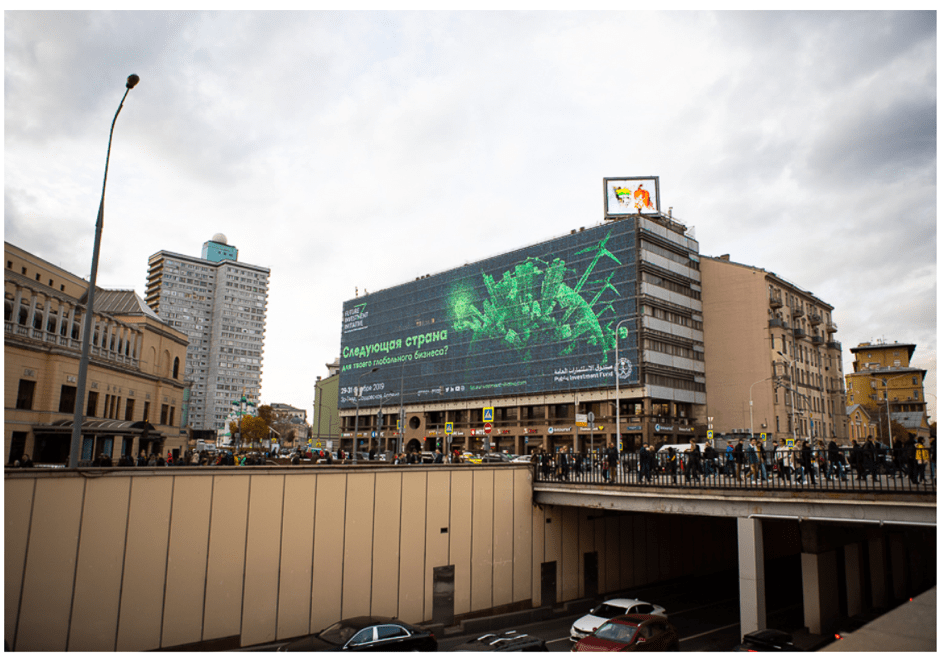 The whole process from getting the task to the final approval and launch of OOH advertising took less than two weeks.
Result
The number of OTS (opportunities to see) the media facade is more than 700 thousand a day. The ad has got more than 12 million views during the placement period. The client was truly satisfied with the ad placement.