Systematic Collection of Travel Market Signals in Russia
How market research helps identify key travel signals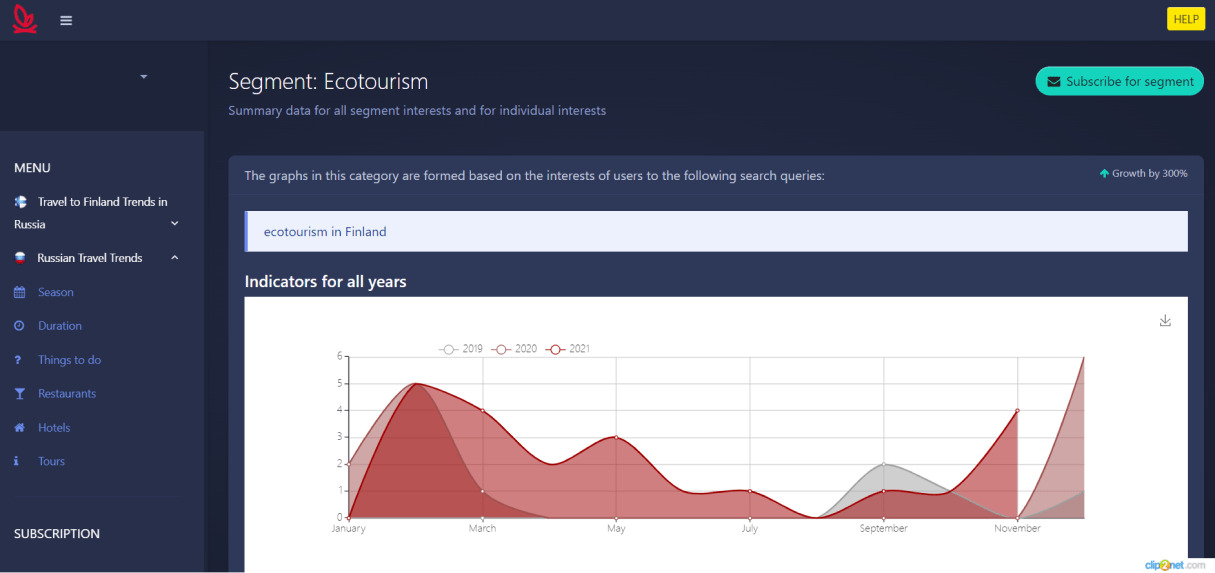 Client
VisitKarelia OY is a state enterprise responsible for the promotion of tourism in North Karelia.
Goal
Our main goal was to conduct research to identify the changing Russian travel market signals. Based on the data obtained, we should develop a strategy for Finnish North Karelia so that the region is prepared for the changing needs of the Russian client.
Solution
Market research
We conducted research using an online survey panel Tiburon, in-depth interviews, media monitoring platform Youscan, and other relevant open data sources.
During the study we received answers to the following questions:
How has COVID-19 impacted the Russian outbound tourism market?
What are the top new and emerging destinations North Karelia will be competing with?
How is the Russian tourists' socio-demographic profile changing due to the COVID-19 pandemic?
How has the COVID-19 crisis affected Russian tourists' travel behavior and spending habits? What are the key factors affecting their choice of travel destination?
What are the Russian market segments we should be focusing on to help North Karelia recover from the COVID-19 crisis? How can we effectively market to these segments?
What are the key messages and marketing strategies North Karelia should follow in the post-COVID period?
Communication strategy
Based on received data and competitive review we developed a communication strategy for VisitKarelia that contained:
Strategic insights;
Portrait of VisitKarelia's target audience;
Key message;
Communication channels (online and offline tools);
Recommended budgets;
Activity calendar;
Recommendations for local North Karelia businesses to attract Russian tourists;
Ideas for joint projects of local North Karelia businesses to attract Russian tourists.
Travel trends tracking platform
Based on the data obtained during the market research, we developed a platform for VisitKarelia that helps to monitor the Russian travel market signals dynamics for the last three years. Data for signals is collected by processing databases of key search queries related to a specific topic. The purpose of the platform is to help local North Karelia businesses effectively build communication to attract Russian tourists.
Results
Our experts provided a full report on the results of the study, on the basis of which we developed a communication strategy for promoting the region of Finnish North Karelia in the Russian market, and we created a tool that helps local businesses in attracting tourists from Russia.