Client
Pepero—sticks dipped in chocolate—is a trademark of Lotte Confectionery in South Korea. The company produces and sells various confectionaries: gums, chocolates, biscuits, ice cream, pies, snacks, candies, and bread. The company is headquartered in Seoul, South Korea.
Goal
To increase brand awareness, to bring the audience's attention to the product, and to teach Russian consumers how to play Pepero Game, a popular Korean game.
Solution
Usually, the objective to attract the audience means maximum coverage, i.e. to tell as many people as possible about the product. However, Lotte wanted a different thing, i.e. to improve understanding of Korean culture among Russian clients and represent their brand in a 'right' light' to let them enjoy Pepero experience.
To implement the project, we decided to involve Russian celebrities, bloggers, to organize smart marketing in popular social media, and to hold a contest of Pepero games.
Pepero game is a game where two people take a Pepero stick, one of them puts one end of the stick into his mouth and the other one bites the other end so that the stick gets smaller. The goal is to get the smallest size of the Pepero stick with no lips touching. Then two couples compare their stick, and the one with a smaller stick wins. In the context of the special, the top award was iPhone 6s, as well as 10 'silver' prizes, or full boxes of Pepero sticks (40 packs per each winner).
We created Instagram and VK accounts for the contest and made a content plan where we would do posts on several themes: the contest, its terms and an appeal to participate, information on the product, content from the contest's participants and from celebrities and other interesting content.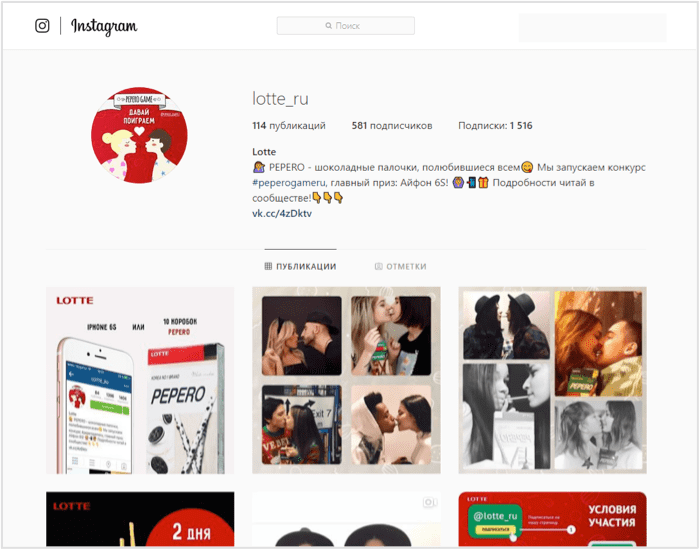 Instagram account of the contest
To support the contest, we involved 4 bloggers and one actress. They made a video with the Pepero game.
Video made by Anna Hilkevich and her husband was watched by 2.3 million people
User generated video content created by Russian fans
Apart from posts and activities in social media, we placed ads in popular communities to attract more audience and increase the number of Lotte subscribers on VK and instagram.
Result
The contest brought attention of young active audience to the Pepero brand. The company got a good coverage and engagement: 30 million people learned about the Pepero game and watched participants' videos, 248 people took part in the contest, Lotte got 5,500 subscribers more, and social media users liked it more than 5 million times.