Client
The renewable materials company, Stora Enso develops and produces solutions based on wood and biomass for a range of industries and applications worldwide. Stora Enso has some 26 000 employees in more than 30 countries, and is publicly listed on the Helsinki and Stockholm stock exchanges.
Goal
To figure out how to change the culture of communication with potential clients and to switch over from a dialogue with a procurement department to the communication with marketers, producers, and logistic experts.
Solution
It was important for RMAA Group team to get deeper insight into the process of decision-making about the packaging, who is involved into it, what is important for these people.
We intended to understand
what drives the market,
who is a driver of changes,
which barriers slow down the development and
how to draw attention of marketers, logistic experts and producers to Stora Enso offer.
To achieve this objective, we conducted a series of in-depth interviews with representatives of manufacturers, retailers and agencies.
We split the report into two large parts: research and strategic.
The first one responds to a question "as it is", in other words carries out market analysis, gets insight into the target audience, describes the current status.
The second part is the suggestions and ideas how to change the situation, how to draw the attention of marketers, logistic experts and producers to Stora Enso offer.
According to our research and strategy we have done the following:
1. Landing pages and White Papers creating
Landing page www.futurepackaging.ru containing
five analytical overviews of packaging technologies and Stora Enso services for meat producers as part of the first advertising campaign in 2018;
two analytical overviews each for coffee and tea producers, snack producers, and confectionery manufacturers as part of the second advertising campaign in 2019.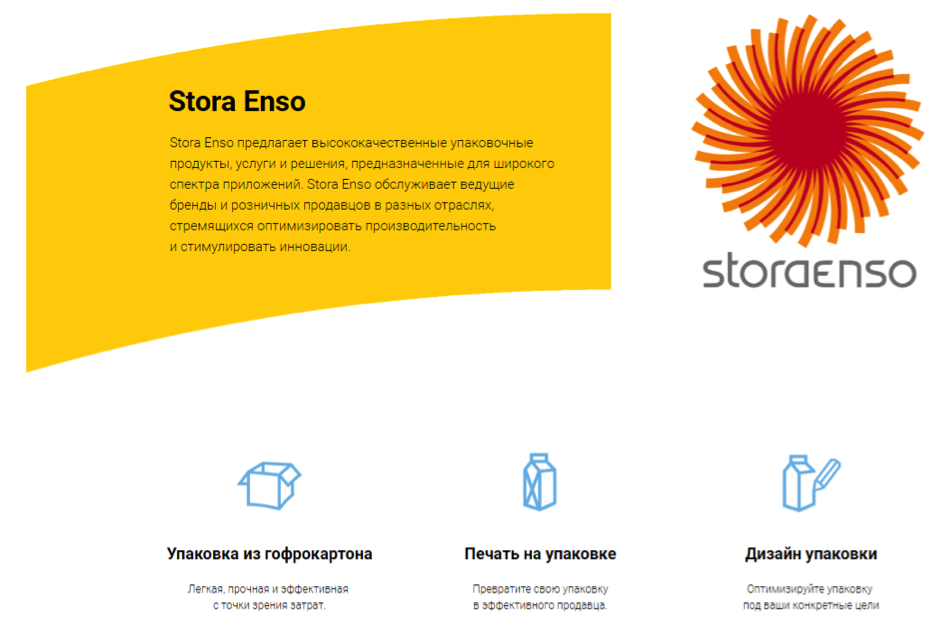 2. All the books were placed on the landing page: 2 of them were provided by the client, and 9 white papers were prepared by our specialists with the assistance of the Stora Enso experts.
Here is a list of white papers for meat producers:
The future of meat products packaging
The future of fresh products packaging
Modern marketing solutions for meat producers
How can meat producer reduce production and logistics costs by using packaging
How meat producers convince retailers to take their goods by using packaging
The following analytical reviews have been published for manufacturers of coffee and tea, snacks and confectionery:
7 Tips for a manufacturer to increase sales with packaging and POS Materials
How can a manufacturer reduce packaging and logistics costs
Each of the books is aimed at a specific decision maker, revealing in the title the pain points of the industry representative. For example, the WP "How meat producers convince retailers to take their goods by using packaging" is about how Stora Enso solutions will convince retailers to place a product on their store shelf.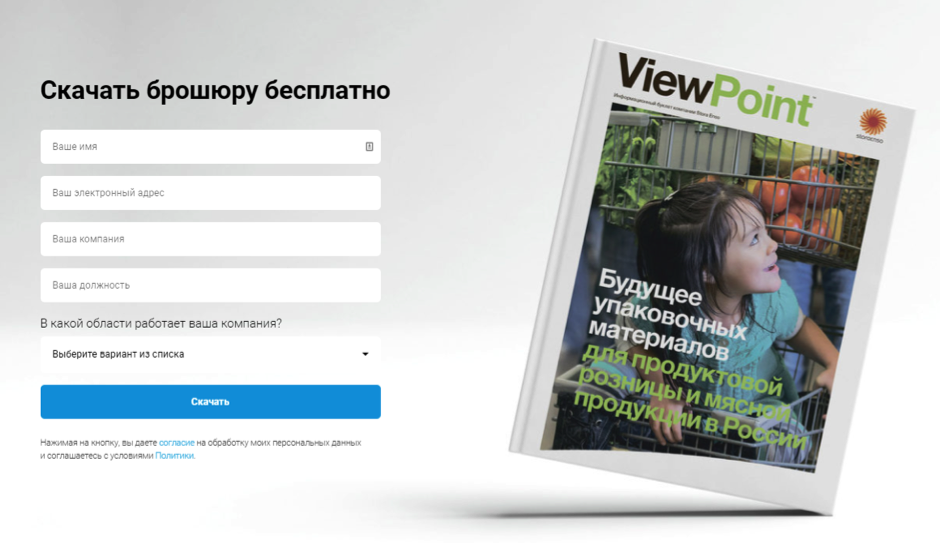 3. Setting up advertising offices and retargeting (VK, Fb, Google, Yandex)

4. Media campaign
For advertising placement were selected industry media with a relevant target audience. The main placement formats were: articles, banners and email newsletters on the basis of the Medias subscribers. We did not want to sell the product directly, but wanted to show expert solutions in the field of product packaging.
5. Email marketing campaign
We set up a chain of letters with the main goal to work with objections and Stora Enso clients' doubts.
6. Webinar Organization
In 2019, the RMAA team organized two webinars for Stora Enso. To collect registrations for the webinar we created landing pages. Part of the media advertising campaign was aimed at promoting the webinar. Retargeting for visitors to analytic overviews pages was also set up to attract more potential customers to the webinar.
The first Stora Enso webinar showed excellent results and it was decided to organize another one. The second webinar was even more successful - the number of participants was 2 times more than the first time. Unfortunately, in accordance with the NDA, we may not disclose any other details.
Result
Our team set up a b2b lead generation flow that brings Stora Enso new customers - meat-processing and grocery companies.
Besides our experts built a communication model that allowed new customers to make a decision on cooperation with Stora Enso, based on the value of the product itself, and not on its price.